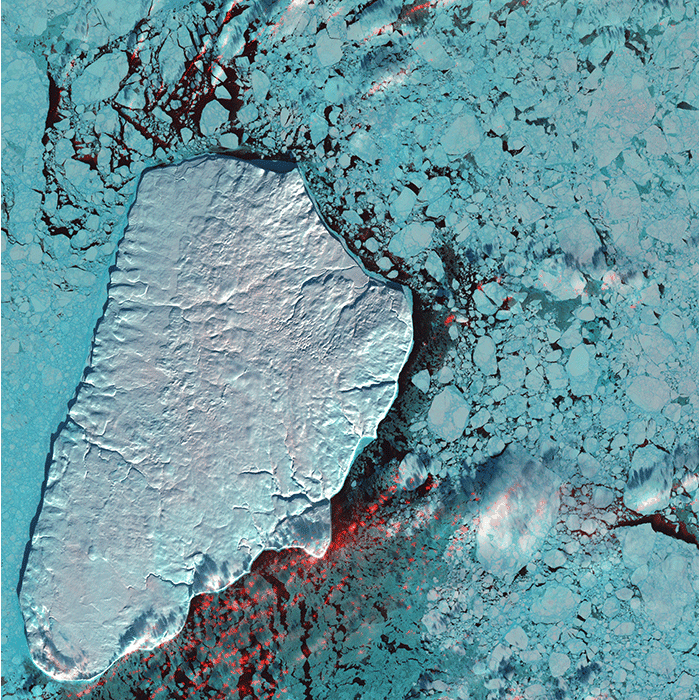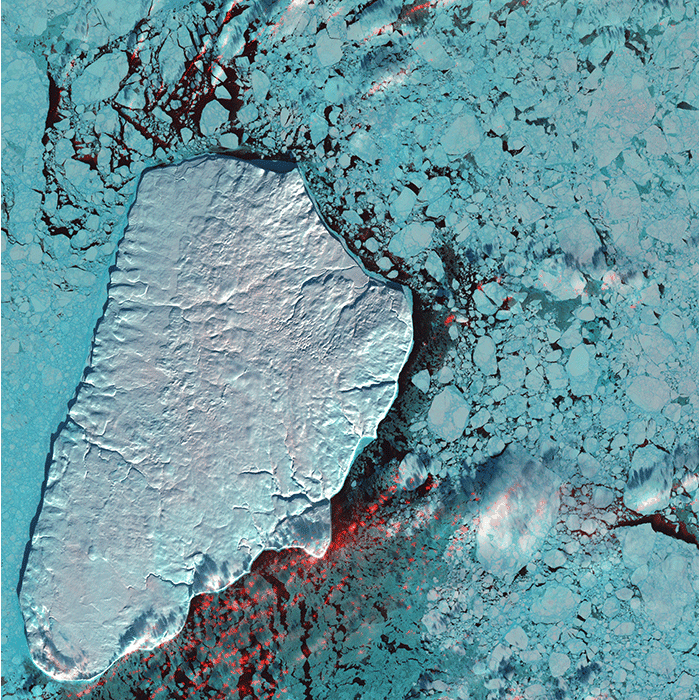 SRS Acquiom saw a record number of life sciences closings in 2022. Casey McTigue, Managing Director of the Professional Services Group, has worked on several hundred litigation and earnout disputes—many involving life sciences M&A—since he joined SRS Acquiom in 2013. In this article, McTigue offers perspective on the market forces at play and emerging life-sciences deal-terms trends.
Lingering Side Effects of the Pandemic
While the COVID-19 pandemic may be in the rearview mirror, the life sciences M&A market continues to experience its effects. Delays in clinical trials from diversion of medical research resources, supply-chain constrictions, and contingent payment challenges have changed the nature of many life-sciences transactions.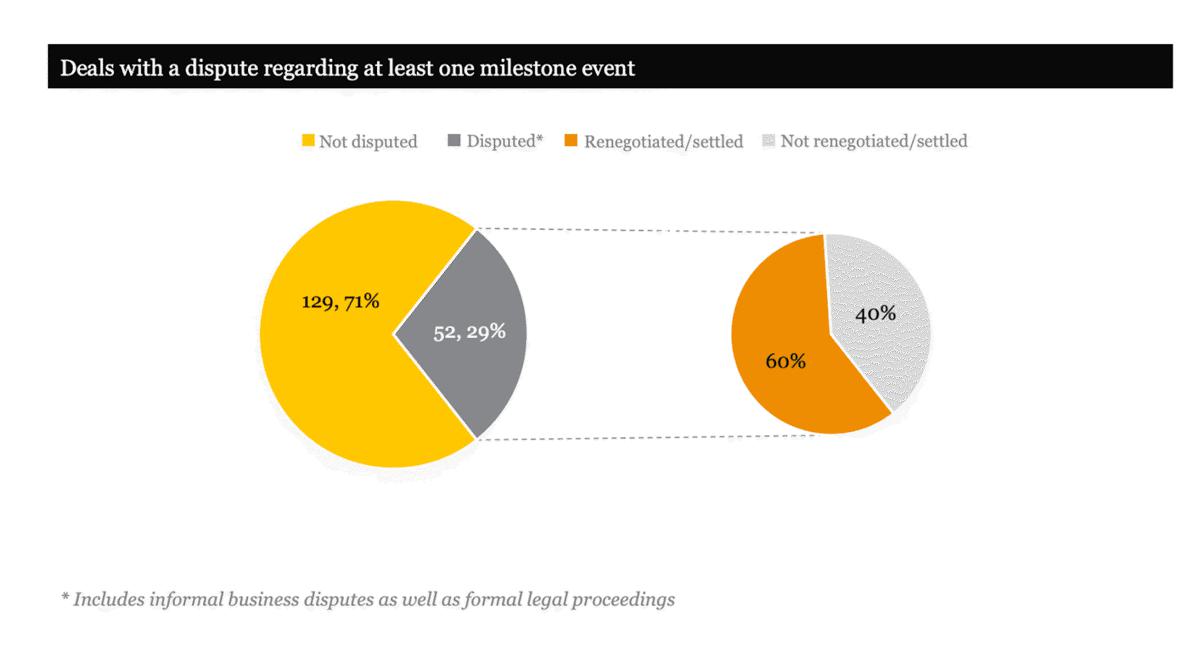 Many early-stage companies rely upon access to doctors, patients, and equipment to support clinical trials. The availability of patients in a lockdown scenario was severely constricted during the pandemic while doctors were diverted to COVID patient care. The supply chain also notably slowed, so equipment was not available. Personal protective equipment (PPE) supply was particularly affected and has yet to regain full capacity. These factors made it difficult to achieve contingent payments on milestones.
In the early days of the pandemic, there was considerable flexibility around earnout achievement. Buyers with good relationships and prospects were more likely to be flexible on milestone terms. As the pandemic wore on, the team at SRS Acquiom also saw a rise in "Act of God" provisions and Material Adverse Effect (MAE) clauses in new deals that were not prevalent before the pandemic. Life sciences M&A deals were not negotiated differently, but there has been a trend toward more significant percentages of deals being deferred or including contingent consideration—shifting risk from buyers to sellers. The pandemic hasn't significantly changed the structure of life sciences M&A deals, but it created more leverage for buyers.
M&A Post-Closing Matters: Milestones and Disputes are Driving More Litigation
The team at SRS Acquiom is seeing contingent consideration gaining in importance in life sciences M&A deals with larger and longer milestone payments as well as a tightening of buyer-disclosed information post-closing.
As buyers seek earlier-stage companies and market conditions continue to create uncertainty, contingent consideration is gaining significance in life sciences M&A dealmaking. Milestone tables are getting larger with very large milestones added to later years, but actual achievement is often delayed. The SRS Acquiom 2021 Life Sciences M&A Deal Terms Study data showed that $54.1 billion in milestone achievements were potentially available, but only a fraction of that amount ($4.7 billion) was earned. These larger and longer milestone periods increase the possibility of a dispute.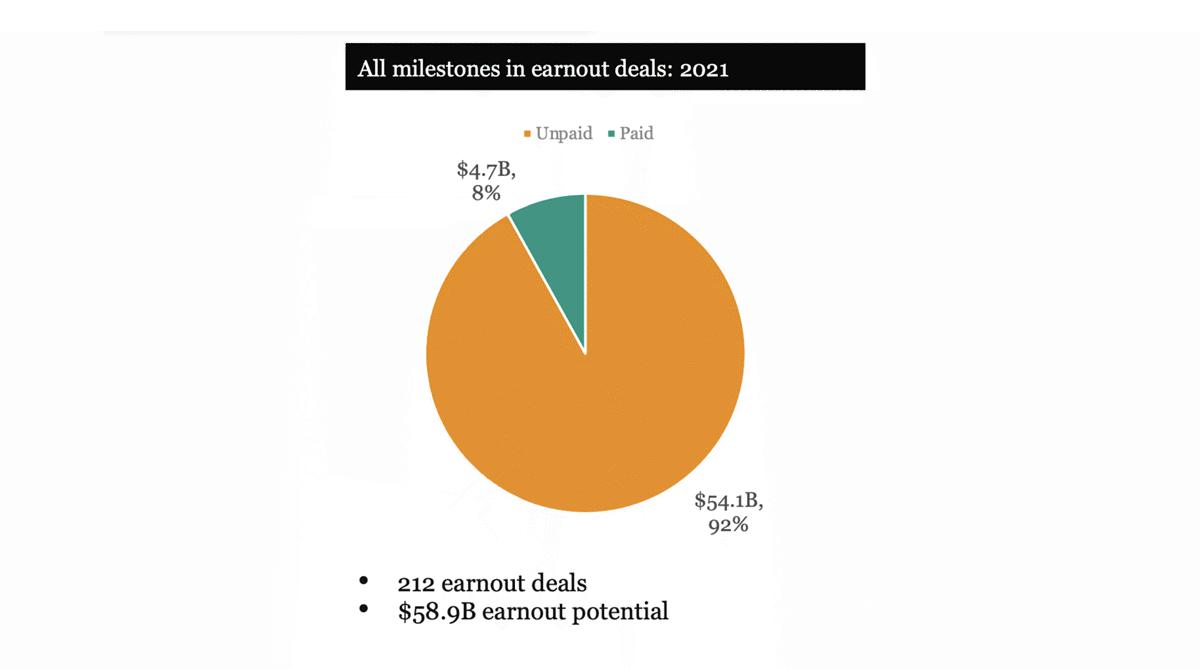 The team at SRS Acquiom is also seeing a trend toward legal representatives of the buyer disclosing less information. Quiet buyers that provide no insight on how things are progressing, especially buyers that "go silent" or minimize disclosures, can cause suspicion in sellers and, in turn, more litigation.
With increasing M&A deal growth in this sector, it is reasonable to anticipate a corresponding increase in litigation. With that caveat, our team has not seen significant change outside of pandemic-related disputes, which are hopefully temporary. However, some buyers have tended recently to be more circumspect in their regular reporting with shorter and less-frequent update reports and are less likely to respond substantively to questions about them, as well. While in most cases buyers are still complying with the technical requirements in transaction agreements, this circumspection may increase the chances of any particular deal resulting in litigation or other disputes.
Protecting M&A Deal Parties' Interests in the Current Life Sciences M&A Environment
Even amid considerable market forces at play, there are measures that life sciences M&A deal parties can take to protect their interests.
Ongoing communication is key between buyers and sellers
Ongoing communication between buyers and sellers on the status of milestone achievements is the key to minimizing post-closing litigation. Ultimately, buyers are only obligated to provide the information required by the terms of the purchase agreement. M&A deal parties should consider the scope of this obligation when negotiating purchase-agreement language.
Well-defined observation rights can help stave off post-closing issues
Robust observation rights help both sides of a deal negotiation by creating trust. Buyers and sellers can benefit from clearly defining important deal terms early in the dealmaking process and by ensuring they are clearly defined in the purchase agreement.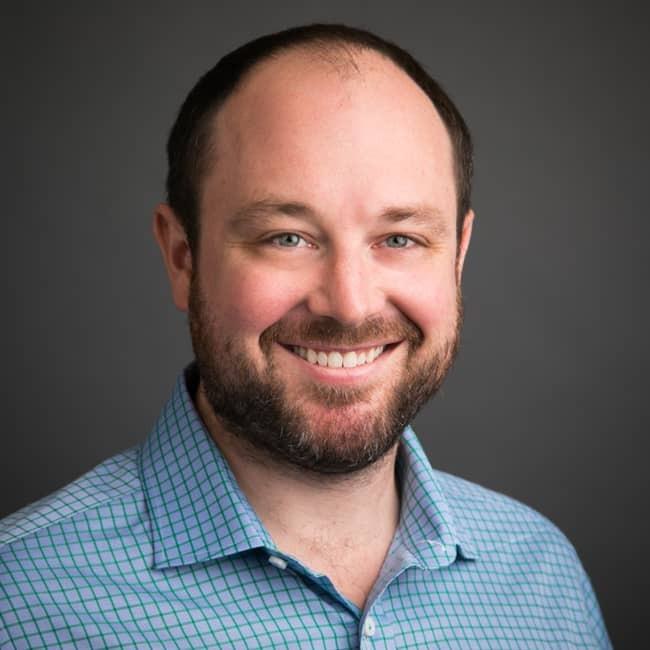 Casey McTigue
Managing Director, Professional Services Group tel:415-363-6081
Casey is a managing director at SRS Acquiom and leads the Professional Services group. His team of lawyers, accountants, and other professionals is responsible for managing post-closing escrow claims, earnouts, working capital, tax, and other disputes on behalf of the company's clients, post-closing distribution of merger proceeds, and other activities related to serving as the shareholder representative. While at SRS Acquiom, Casey has represented shareholders' interests on hundreds of deals, including defending claims up to $400 million and administering life sciences deals with as much as $1 billion in contingent consideration.
Before joining SRS Acquiom, Casey represented Fortune 50 clients as a litigation attorney nationally and internationally in a variety of fields. He acted as outside counsel on behalf of numerous parties, including SRS Acquiom and its clients, and took multiple cases to trial and appeal.
Casey frequently presents and writes on subjects of interest to those in the M&A field and is a core contributor to SRS Acquiom's life sciences study. He is also an Eagle Scout and volunteers with San Francisco Bay Area youth sports. He holds a J.D. from the University of California, Berkeley (Boalt Hall) and a B.S. in economics from Arizona State University's Barrett Honors College.