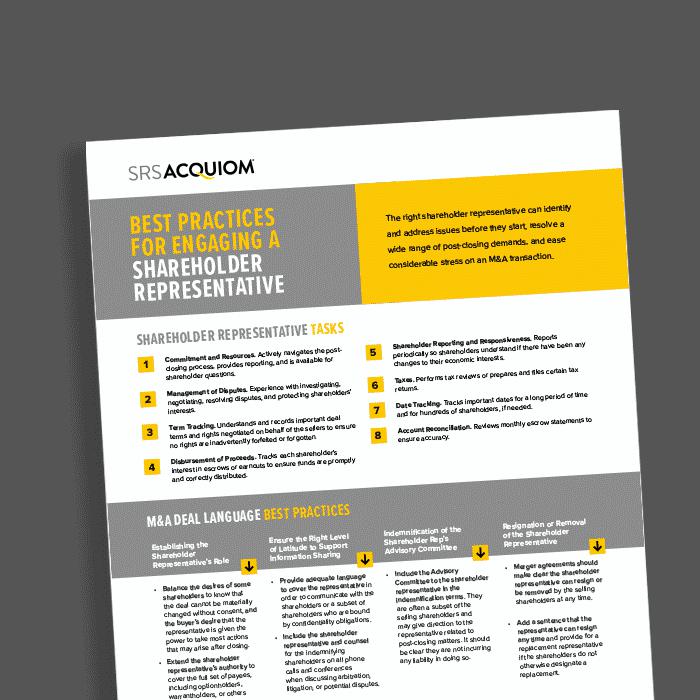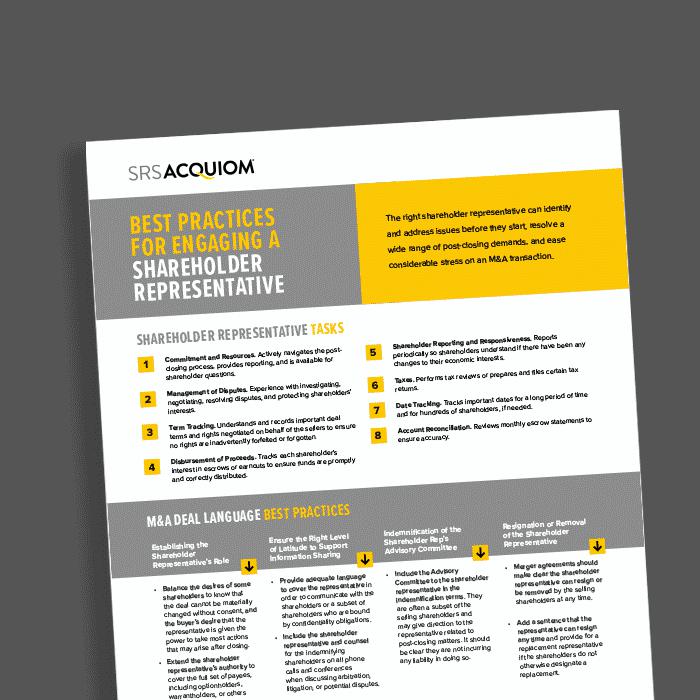 The right shareholder representative can identify and address issues before they start, resolve a wide range of post-closing demands, and ease considerable stress on an M&A transaction.
Shareholder Representative Services
1. Commitment and Resources. Actively navigates the post-closing process, provides reporting, and is available for shareholder questions.
2. Management of Disputes. Experience with investigating, negotiating, resolving disputes, and protecting shareholders' interests.
3. Term Tracking. Understands and records important deal terms and rights negotiated on behalf of the sellers to ensure no rights are inadvertently forfeited or forgotten.
4. Disbursement of Proceeds. Tracks each shareholder's interest in escrows or earnouts to ensure funds are promptly and correctly distributed.
5. Shareholder Reporting and Responsiveness. Reports periodically so shareholders understand if there have been any changes to their economic interests.
6. Taxes. Performs tax reviews or prepares and files certain tax returns.
7. Date Tracking. Tracks important dates for a long period of time and for hundreds of shareholders, if needed.
8. Account Reconciliation. Reviews monthly escrow statements to ensure accuracy.
M&A Deal Language Best Practices
Establishing the Shareholder Representative's Role
Balance the desires of some shareholders to know that the deal cannot be materially changed without consent, and the buyer's desire that the representative is given the power to take most actions that may arise after closing.
Extend the shareholder representative's authority to cover the full set of payees, including optionholders, warrantholders, or others receiving proceeds.
Ensure the Right Level of Latitude to Support Information Sharing
Provide adequate language to cover the representative in order to communicate with the shareholders or a subset of shareholders who are bound by confidentiality obligations.
Include the shareholder representative and counsel for the indemnifying shareholders included on all phone calls and conferences when discussing arbitration, litigation or potential disputes.
Indemnification of the Shareholder Rep's Advisory Committee
Include the Advisory Committee to the shareholder representative in the indemnification terms. They are often a subset of the selling shareholders and may give direction to the representative related to post-closing matters. It should be clear they are not incurring any liability in doing so.
Resignation or Removal of the Shareholder Representative
Merger agreements should make clear the shareholder representative can resign or be removed by the selling shareholders at any time.
Add a sentence that the representative can resign any time and provide for a replacement representative if the shareholders do not otherwise designate a replacement.
The right team can holistically manage the M&A process, solve problems before they start, and sustain support throughout the multiyear process. Download to view the full infographic.