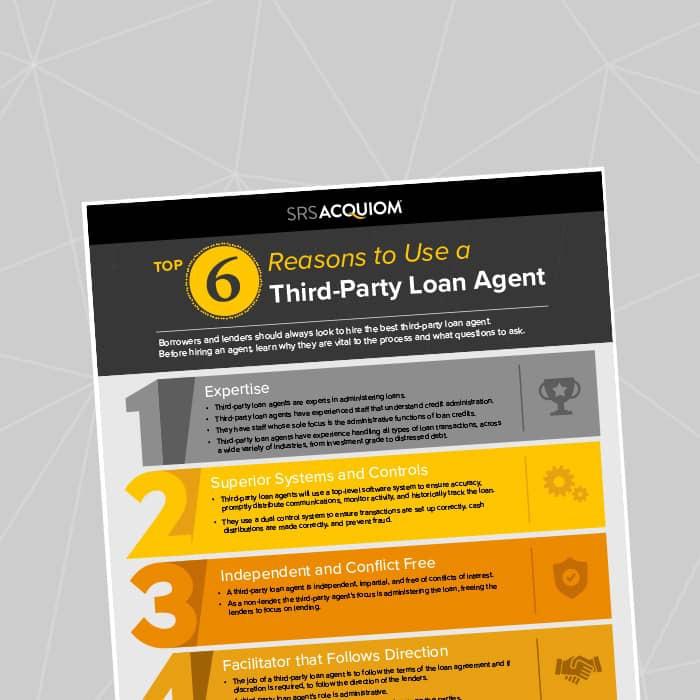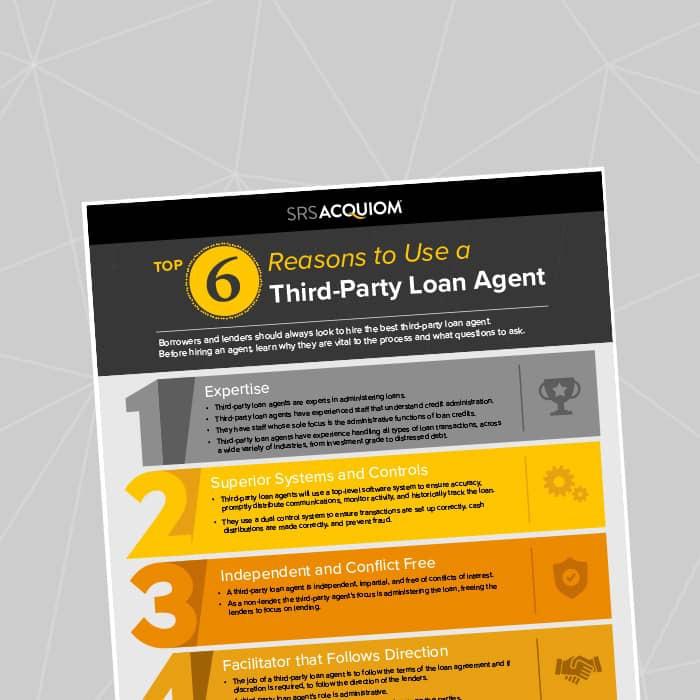 Borrowers and lenders should always look to hire the most qualified third-party loan agent. Before hiring an agent, learn why they are vital to the process and what questions to ask.
#1 Expertise in Administering Loans
Third-party loan agents are experts in administering loans. 
Third-party loan agents have experienced staff that understand credit administration.

They have staff whose sole focus is the administrative functions of loan credits.

Third-party loan agents have experience handling all types of loan transactions, across a wide variety of industries, from investment grade to distressed debt. 
#2 Superior Systems and Controls — Loan Servicing and Tracking
Third-party loan agents will use a top-level software system to ensure accuracy, promptly distribute communications, monitor activity, and historically track the loan.  

They use a dual control system to ensure transactions are set up correctly, cash distributions are made correctly, and prevent fraud.
#3 Independent and Conflict Free Loan Agent
A third-party loan agent is independent, impartial, and free of conflicts of interest. 

As a non-lender, the third-party agent's focus is administering the loan, freeing the lenders to focus on lending.
#4 Loan Facilitator that Follows Direction
The job of a third-party loan agent is to follow the terms of the loan agreement and if discretion is required, to follow the direction of the lenders.

A third-party loan agent's role is administrative.

They facilitate communication and transfer funds among the parties.
#5 Simplified Tax Reporting 
Third-party loan agents handle tax reporting on behalf of the borrower.

They provide lenders with applicable tax documents for all payments pertaining to the loan agreement made through the year.

Third-party loan agents file the required tax forms: 

1099-INT (interest); 

1099-MISC (fees); 

1042 (for foreign lenders receiving interest or fees from a US Borrower)
#6 Collateral Tracking and Storage
Third-party loan agents track the collateral pledged to the lenders. 

They securely store physical collateral pledged by the borrower.

Questions to ask before hiring a loan agent:
How are clients' needs met?

What, if any, specialized services does the third-party loan agent offer?

What is the turnaround time for inquiries, payments, notices, audit confirmations, and returning phone calls? 

How do you ensure deal information is accurate and correct?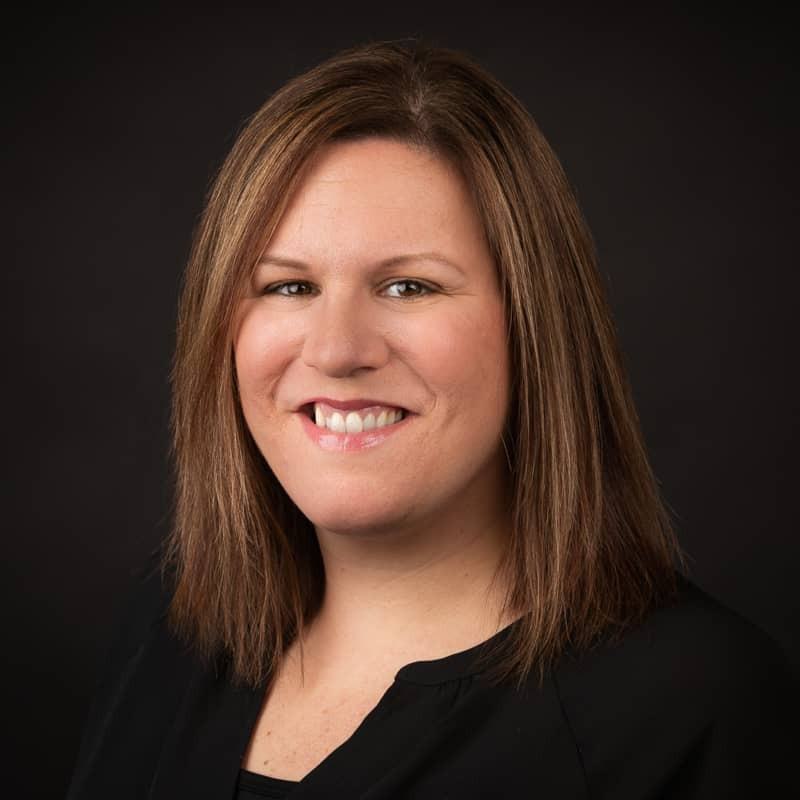 Jennifer Anderson
Senior Director, Loan Agency Relationship Management 612.509.2321
Jennifer is a relationship manager for the Loan Agency Group for SRS Acquiom. She works on syndicated loan transactions where SRS Acquiom acts as the administrative agent and/or collateral agent for the Loan Agency transactions.
Before joining SRS Acquiom, Jennifer was a relationship manager in the Loan Agency Group with Wilmington Trust, N.A. Jennifer began her 10-year career at Wilmington Trust working in human resources for the first two and a half years. She then transitioned to working as a client associate with the Default Bankruptcy Group, before earning a relationship manager position for the group.
Prior to working at Wilmington Trust, Jennifer worked in various human resources roles with AIG in Wilmington, Philadelphia, and New York City.
Jennifer has her CCTS certification. She received her B.S. in human resources management from Wilmington University in New Castle, Delaware.