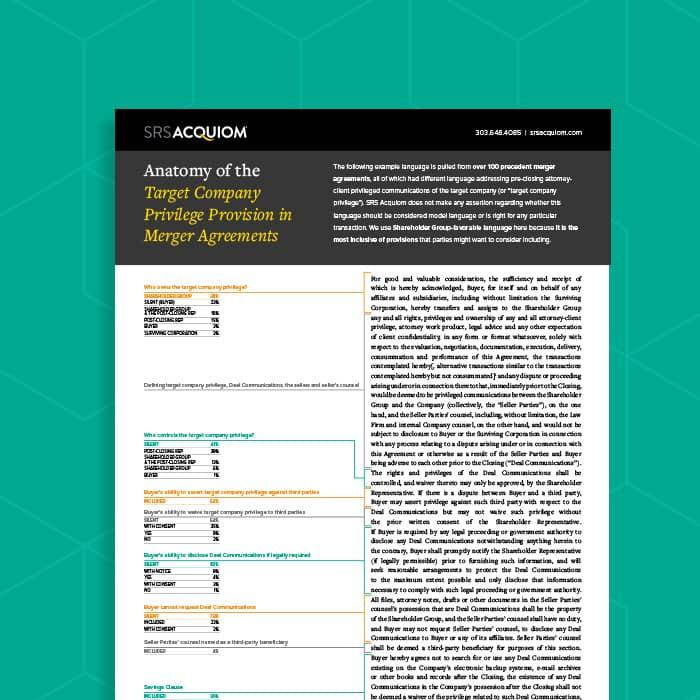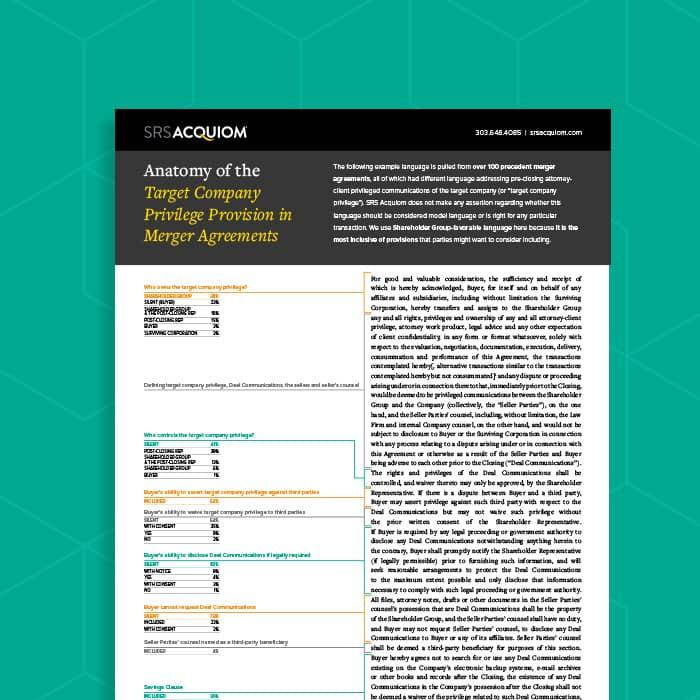 The following example language is pulled from over 100 precedent M&A agreements, all of which had different language addressing pre-closing attorney client privileged communications of the target company (or "target company privilege"). SRS Acquiom does not make any assertion regarding whether this language should be considered model language or is right for any particular transaction. We use Shareholder Group-favorable language here because it is the most inclusive of provisions that parties might want to consider including.
Example language:
For good and valuable consideration, the sufficiency and receipt of which is hereby acknowledged, Buyer, for itself and on behalf of any affiliates and subsidiaries, including without limitation the Surviving Corporation, hereby transfers and assigns to the Shareholder Group any and all rights, privileges and ownership of any and all attorney-client privilege, attorney work product, legal advice and any other expectation of client confidentiality, in any form or format whatsoever, solely with respect to the evaluation, negotiation, documentation, execution, delivery, consummation and performance of this Agreement, the transactions contemplated hereby[, alternative transactions similar to the transactions contemplated hereby but not consummated] and any dispute or proceeding arising under or in connection thereto that, immediately prior to the Closing, would be deemed to be privileged communications between the Shareholder Group and the Company (collectively, the "Seller Parties"), on the one hand, and the Seller Parties' counsel, including, without limitation, the Law Firm and internal Company counsel, on the other hand, and would not be subject to disclosure to Buyer or the Surviving Corporation in connection with any process relating to a dispute arising under or in connection with this Agreement or otherwise as a result of the Seller Parties and Buyer being adverse to each other prior to the Closing ("Deal Communications"). The rights and privileges of the Deal Communications shall be controlled, and waiver thereto may only be approved, by the Shareholder Representative. If there is a dispute between Buyer and a third party, Buyer may assert privilege against such third party with respect to the Deal Communications but may not waive such privilege without the prior written consent of the Shareholder Representative. If Buyer is required by any legal proceeding or government authority to disclose any Deal Communications notwithstanding anything herein to the contrary, Buyer shall promptly notify the Shareholder Representative (if legally permissible) prior to furnishing such information, and will seek reasonable arrangements to protect the Deal Communications to the maximum extent possible and only disclose that information necessary to comply with such legal proceeding or government authority. All files, attorney notes, drafts or other documents in the Seller Parties' counsel's possession that are Deal Communications shall be the property of the Shareholder Group, and the Seller Parties' counsel shall have no duty, and Buyer may not request Seller Parties' counsel, to disclose any Deal Communications to Buyer or any of its affiliates. Seller Parties' counsel shall be deemed a third-party beneficiary for purposes of this section. Buyer hereby agrees not to search for or use any Deal Communications existing on the Company's electronic backup systems, e-mail archives or other books and records after the Closing, the existence of any Deal Communications in the Company's possession after the Closing shall not be deemed a waiver of the privilege related to such Deal Communications, and the parties agree to take all reasonable steps necessary to ensure such privilege shall survive the Closing.
1Optional language depending on how broadly the parties agree to define Deal Communications.
Who owns the target company privilege?
SHAREHOLDER GROUP 38%

SILENT (BUYER) 23%

SHAREHOLDER GROUP & THE POST-CLOSING REP 18%

POST-CLOSING REP 15%

BUYER 3%

SURVIVING CORPORATION 3%
Who controls the target company privilege?
SILENT 41%

POST-CLOSING REP 39%

SHAREHOLDER GROUP & THE POST-CLOSING REP 13%

SHAREHOLDER GROUP 6%

BUYER 1%
Buyer's ability to assert target company privilege against third parties
Buyer's ability to waive target company privilege to third parties
SILENT 54%

WITH CONSENT 35%

YES 9%

NO 2%
Buyer's ability to disclose Deal Communications if legally required
SILENT 83%

WITH NOTICE 9%

YES 4%

WITH CONSENT 3%

NO 1%
Buyer cannot request Deal Communications
SILENT 76%

INCLUDED 22%

WITH CONSENT 2%
Seller Parties' counsel named as a third-party beneficiary
INCLUDED 4%
Savings Clause
Dataset: 112 merger agreements from 2018 that addressed target company privilege.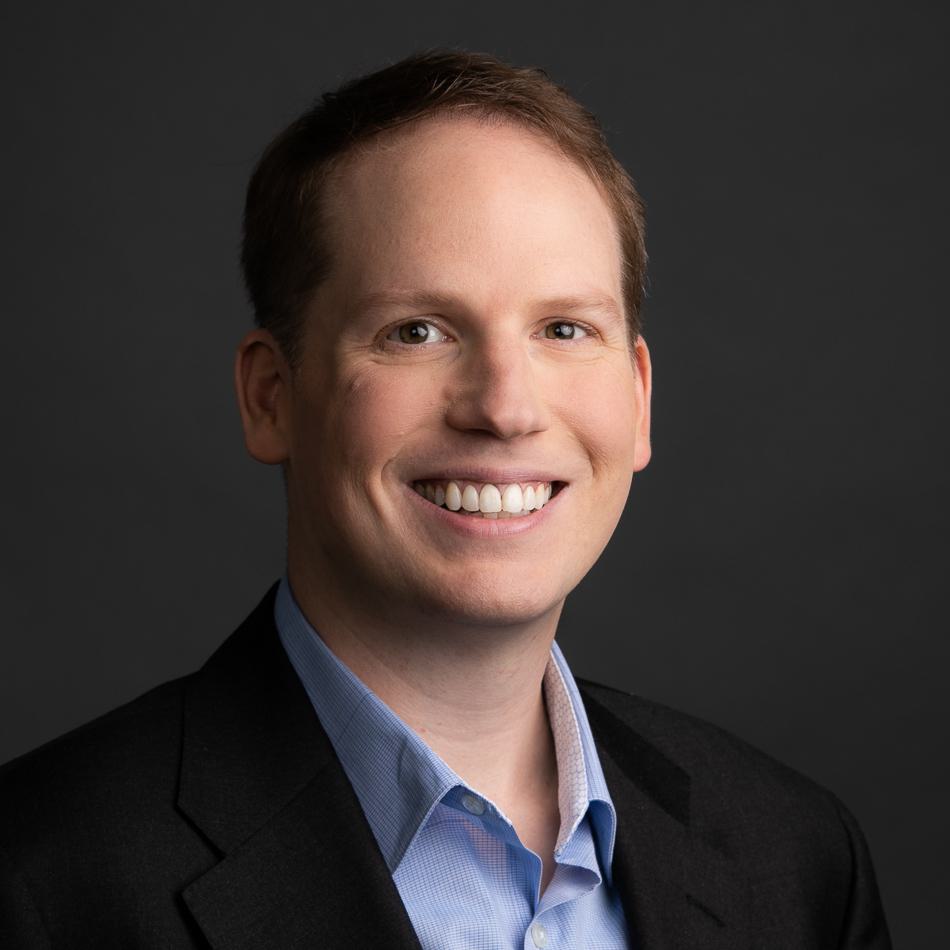 Kip Wallen
Senior Director, Thought Leadership 720.452.5364
Kip Wallen is a senior director leading the SRS Acquiom thought leadership practice. He leverages his extensive expertise and SRS Acquiom proprietary data to produce resourceful content regularly utilized by market practitioners. Kip has broad experience in M&A and provides guidance on market standards and trends.
Previously, Kip was a Director with the SRS Acquiom Transactional Group, where he collaborated with clients and counsel to negotiate M&A documents including purchase, escrow, payments, and other transactional agreements. Before joining SRS Acquiom, Kip was an attorney with a Denver-based boutique business law firm where he assisted clients with M&A transactions as well as general corporate governance and securities matters.
Kip is an avid supporter of the Colorado Symphony, serving on the Associate Board and Colorado Symphony Fund Board, and the Colorado Rockies. He is an active participant on the American Bar Association's M&A Committee. In 2016, Kip completed Leadership 20 with the Denver chapter of the Association for Corporate Growth.
Kip received his J.D. from the Sturm College of Law at the University of Denver and an M.S. in Economics, B.S. in Economics and B.A. in International Relations from Lehigh University. He is a member of the Colorado bar.